Review
One of Hitchcock's most stylish thrillers has photographer Stewart confined to wheelchair in his apartment, using binoculars to spy on courtyard neighbors, and discovering a possible murder. Inventive Cornell Woolrich story adapted by John Michael Hayes. Stewart, society girlfriend Kelly, and no-nonsense nurse Ritter make a wonderful trio.
Trivia
At the time the set was the largest indoor set built at Paramount Studios.
The film was unavailable for many years owing to a dispute with Cornell Woolrich's estate over the rights to the original story.
Hitchcock supposedly hired Raymond Burr to play the villain because he looked like his old producer David O. Selznick.
Other than a couple of shots near the end and the discovery of the dead dog all the shots in the movie originate from Stewart's apartment
Cameo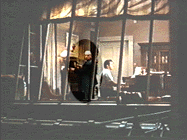 Hitchcock makes his cameo appearance an hour into the film, winding the clock in the songwriter's apartment.