Genres
Thriller, Romance, Spy
Director
Alfred Hitchcock
Writer
Ben Hecht
Composer
Roy Webb
Director of Photography
Ted Tetzlaff
Review
Top-notch espionage tale by Ben Hecht, set in post-WW2 South America, with Ingrid marrying spy Rains to aid U.S. and agent Grant. Frank, tense, well acted, with amazingly suspenseful climax (and one memorably passionate love scene).
Trivia
Hitchcock claimed that the FBI had him under surveillance for three months because the film dealt with Uranium for the A-bomb.
The films producer, David O. Selznick had originally wanted Vivien Leigh for Ingrid Bergman's role.
The original story, "The Song of the Dragon" was first published in the Saturday Evening Post in November 1921.
It was remade in 1992 as a TV-movie.
Cameo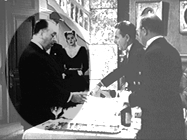 Hitchcock makes his cameo appearance about an hour in, drinking champagne at the party in Claude Rains' mansion.
Criterion Collection DVD - Chapter 18 "The Party" at 01:04:39