Review
Hitchcock coasts along in this tongue-in-cheek thriller. Harris is phony psychic who gets involved in a murder plot hatched by sinister Devane. Mildly entertaining but never credible. Ernest Lehman scripted Hitch's 54th and final film.
Trivia
Roy Thinnes was originally hired to play Arthur Adamson, but Hitchcock was dissatisfied with his performance and fired him one month into the filming.
Cameo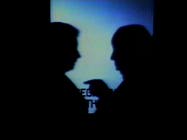 In silhouette 45 minutes into the film behind the door at the registrar of births and deaths.